Building a stronger Human Capital could accelerate Morocco's economic growth, job creation
trajectory and competitiveness gains. In 2018, Human Capital was estimated to contribute 41 percent to the country's wealth per capita, a level substantially lower than in countries with a similar level of development.
The updated World Bank Human Capital Index (HCI) gives countries an opportunity to take stock of where progress has been made in accumulating human capital. And although the index does not capture the immediate effects of COVID-19 on human capital, there is little doubt that the impact of the disease will be felt on sectors key to it, such as education.
Using the index as a baseline, countries like Morocco will be able to track the consequences of the pandemic on their Human Capital development and use this information to undertake appropriate measures to protect and invest in students during the span of the pandemic and beyond.
Findings from the HCI 2020 show that globally countries have increased their human capital scores by an average of 5% over the past decade. Data from 2010 show an even more significant increase of 6% for Morocco, driven mostly by improvements in education (see Figure). As a major contributor to human capital, learning outcome is one of the best predictors of sustainable growth and poverty reduction. While this is encouraging, important challenges persist related to the quality of education, equity, and overall management of the sector.
---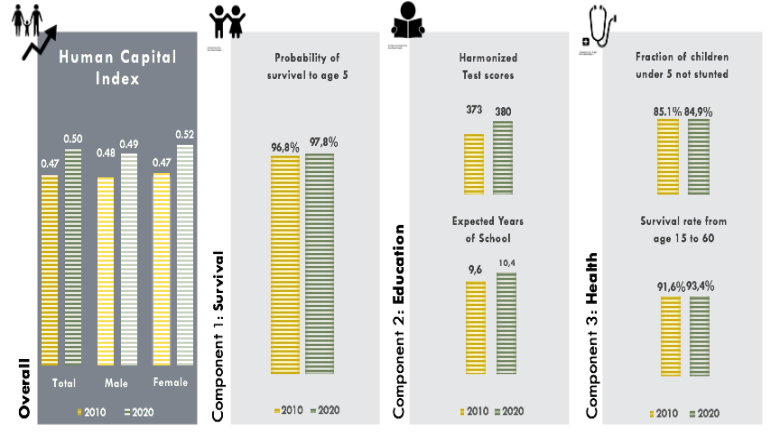 ---
Even prior to the crisis, Morocco was struggling to stay on track to meet the 2030 targets for inclusive, equitable, quality education and lifelong learning (Sustainable Development Goal 4). In 2019, 66% of 10-year-olds in Morocco were not able to read and comprehend a simple text, a score 2.5 percentage points lower than the Middle East & North Africa (MENA) regional average and 10.7 percentage points lower than the lower-middle-income country average.
The year before, in 2018,
A year earlier, in 2018, Moroccan students' total years of schooling adjusted to effective learning were estimated at 6.2 years.
. In other words, when the number of actual years of schooling was adjusted for the amount of learning, in Morocco the number of effective years of schooling was on average 4.4 years less than the number of actual years. This reflects the learning crisis that Morocco is facing, like other countries, and the urgency to improve the performance of the education system to ensure that it provides all with a basic set of skills that are necessary to contribute as citizens and individuals to the Moroccan society and economy.
The Government of Morocco committed itself to pursuing education reforms to improve the sector's performance in its 2015–2030 education vision plan and its new Education Act, passed in 2019, which placed learning at its center and tackled the complexity of reform by addressing both the immediate and deeper causes of the country's learning crisis. A US$ 500-million World Bank loan (the Morocco Education Support Program for Results) supports government efforts by focusing on improving learning outcomes and sector governance.
The COVID-19 crisis, however, is threatening to further undermine Morocco's education outcomes. Lockdown measures, including school closures, have led to the loss of at least three months of learning for an estimated 900,000 preschoolers, eight million primary (elementary) and secondary (high) schoolers, and one million students in tertiary education.
World Bank simulations estimate the learning crisis may prove harmful in a wider sense as well, by eroding growth and poverty reduction in Morocco. A World Bank report, Simulating COVID-19 impacts on learning and schooling outcomes, says that without adapted measures to compensate for the learning loss, the three-month school closure and unfolding economic shock could diminish the effective learning a student gains—from 6.2 years to 5.9 years—and diminish average annual learning by 2 percent per student.
School closures disproportionately affect the most vulnerable students, especially those without digital devices and Internet access for distance learning. The Ministry of Education was proactive in taking steps to minimize learning loss during the crisis, but a lack of access among some students to remote learning may widen equity gaps in education.
Looking ahead of the COVID-19 curve
While money remains tight, Morocco will need to safeguard education spending to limit the intergenerational transmission of poverty.  Its response could continue to focus on its 2015–2030 objectives by using lessons from the COVID crisis to accelerate education reforms. In the meantime, the following strategies could be considered:
Ensure face-to-face learning (where possible): It is important to keep schools open, where possible and under strict social distancing rules, in order to give students the best chance for learning and to bridge gaps.
Dropout prevention: To mitigate the risk of school dropout, awareness campaigns would be critical and both financial and non-financial incentives such as cash transfers and catch up classes could be considered.
Teachers professional development: Enhancing teachers' capacity will be essential as, in addition to moving away from teaching through memorization, they now need to improve their digital skills and adapt to distance teaching technics.
Forge stronger public-private partnerships (PPPs) to improve access to quality education for all:  Although limited in scope to date, the pandemic has accelerated the use of PPPs in Morocco during school closure period. The Ministry of Education very quickly joined forces with network providers and other professionals to strengthen digital infrastructure while modernizing teaching and online delivery platforms. . This could put in place a trend for the future of education in Morocco and become a game changer in meeting SDG goals.
Adopt new approaches to accelerate reforms: While the crisis threatens the education of millions, it also provides an opportunity for the sector to reform itself. Well-targeted interventions, with a focus on children at risk, could accelerate the country's objectives to universalize preprimary education by 2028 for children aged 4- and 5-years-old, reduce learning poverty and strengthen accountability along the service delivery chain. through cutting edge, evidence-based approaches.
By harnessing strategic international alliances and partnerships to learn about innovative approaches and best practices, Morocco can benefit from the expertise and  comparative advantage multi-lateral and bilateral international organizations have in global knowledge.
These interventions are critical to protect future generations of students in Morocco both during the pandemic and beyond it. The crisis will undoubtedly stretch resources; however, it is imperative for Morocco to keep up the momentum by continuing to invest in human capital and build a resilient education system.