The coronavirus pandemic wreaked havoc around the world and dealt a major setback to
decades of development outcomes.

Taking place fully virtually this year, the World Bank Group/IMF Annual Meetings will center around "Supporting a Resilient Recovery." Leaders from government, business, international organizations and civil society along with a diverse group of experts, will discuss the path ahead for developing countries.

The Meetings will take place from October 12 to 18.
What you'll learn
• Find out what can be done to encourage greater private sector participation in debt-service suspension.
• Learn how countries can recover from COVID-19 while continuing to address the growing challenges of climate change and biodiversity loss.
• Watch experts as they discuss how we can reimagine the delivery of essential services, such as health and education and social protection, in response to COVID-19 that protects against future shocks and builds a more resilient recovery.
• Explore new ways to accelerate digital access and create ubiquitous, affordable, and reliable connectivity for all.
• Join us as we mark the official launch of the World Bank Digital Infrastructure Summit.
• Explore with us the obstacles to poverty reduction, including conflict and climate change.
• Tune in to the first virtual Civil Society Townhall, as we engage with representatives of Civil Society Organizations from around the world.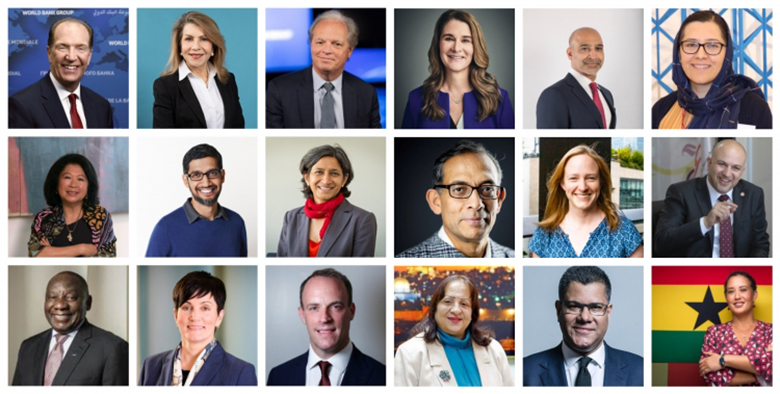 Speakers
This year's speakers include leaders from government, business, international organizations and civil society, along with a diverse group of experts and thought leaders who will share the best solutions for today's dire global development issues. Have a question for them? You can ask them online when you join their sessions.
Featured speakers this year include:
David R. Malpass | President, World Bank Group
Sundar Pichai | CEO, Google and Alphabet
Melinda Gates | Co-chair of the Bill & Melinda Gates Foundation
Abhijit Banerjee | Nobel Laureat