Yemen's high malnutrition rates have drawn global attention, highlighting the impact the
country's five-and-half-year civil war has had on its population. About 20 million Yemenis—70% of the population—are facing hunger, a 13% increase from 2017.
Yemen is one of the most food insecure countries in the world. Long before the conflict began, child malnutrition was widespread. In 2013, 46.5% of children under five were stunted, or short and underweight for their age; 16.3% suffered from acute malnutrition.
By February 2019, an estimated 2 million children—about 50% of the children under the age of five—were suffering from acute malnutrition; 350,000 were severely malnourished.
Afaf is familiar with these statistics on a deeply personal level. Her baby girl died of malnutrition after living on a diet of milk and rice for months. "I couldn't afford to give her food. She died, and I didn't know from what."
Cash for Nutrition Programme
In 2015, the Yemen Social Fund for Development (SFD) worked on a Cash for Nutrition program that has since been folded into the Emergency Crisis Response Project. Targeting pregnant women and women with children under the age of five, this project gives them money to buy food and teaches them about child nutrition. It has been able to reach more than 165,000 pregnant or lactating women and 175,000 children so far.
Although Yemenis have seen a steep drop in variety in their diet during the conflict, studies show that households supported by the project bought at least 17% more food with the cash they were given and spent most of it on foods with more nutritional value than staple grains, like vegetables, fruits, milk, and eggs.
Describing the impact the project has had on her life, Afaf said: "It began when I was pregnant with my second child, and I took a vow that my new baby would arrive safe and healthy."
---
MULTIMEDIA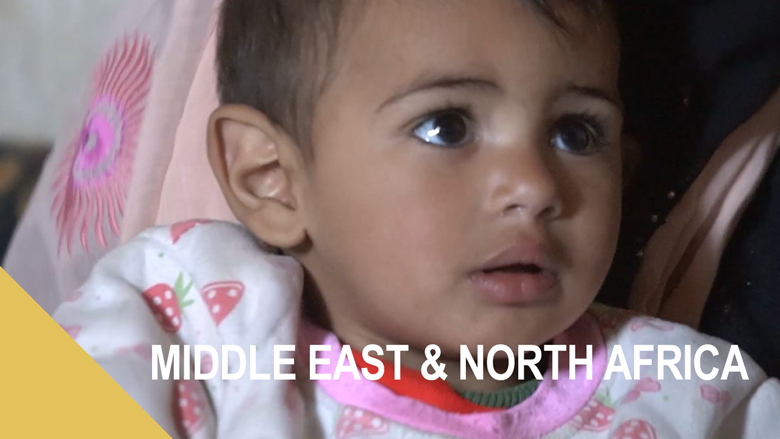 ---
Program Delivery
The project employs women with high school education or above as community health educators. Nearly 4,000 health educators have been trained to teach communities about nutrition and screen them for malnutrition.
Reem worked with Afaf to take care of her health and well-being throughout her second pregnancy, making sure her son had the food he needed to develop and thrive.
"We tried our best to direct the money provided by the Cash for Nutrition program in the right way," Reem said. "Our focus was to provide food, educate women using evidence, and demonstrate how malnourished children can recover. I used to wonder, 'What could 10,000 or 20,000 Yemeni Riyal (US$20 to US$40) possibly give people?' I realized the difference after my second and third visit to their homes."
Research by the International Food Policy Research Institute indicates that cash transfer programs that provide homes with financial support to purchase food have succeeded in reducing acute malnutrition in Yemen.
The Value of Education
The first step Reem took with Afaf was to show her pictures of malnourished children. "As soon as Afaf saw them, she said 'This looks like my daughter,'" Reem reflected. With the knowledge she gained, Afaf was able to challenge common misconceptions about nutrition and adopt practices that differed from most other women in her community. "The other women said that giving my newborn son breast milk would make him sick, but I didn't believe them because I'm well-educated now. They insisted on giving him boiled water, and I insisted on feeding him my milk. I kept feeding him my milk for six months. I gave him all the care and love he needed, which resulted in his good health. After six months, I started to give him food supplements at specific times."
Seeing that other children in her village suffering from malnutrition, Afaf recognised there were opportunities to educate other mothers, and help spare them the tremendous grief she had endured losing her daughter. "The mothers were surprised and asked me where I came from and who taught me these practices. I said, 'I came from SFD to educate you and teach you about healthcare and breastfeeding.' Eventually, the mothers applied everything I taught them. I thanked God that I helped those women and their children to survive."
*Funded and supported by the World Bank' International Development Association, the "Labor Intensive Works and Community Services" component of the Yemen Emergency Crisis Response Project (ECRP) is implemented by UNDP, in partnership with the Social Fund for Development (SFD) and the Public Works Project (PWP). The US$400 million component provides economic stimuli in the form of large cash-for-work projects, support to small businesses, and labor-intensive repairs of socio-economic assets, benefiting vulnerable local households and communities across Yemen.