Africa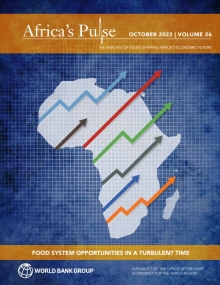 Download Report (April 2023)
Press Release: English | Français
The April 2023 edition of the Africa's Pulse shows growth across Sub-Saharan Africa remains sluggish, dragged down by uncertainty in the global economy, the underperformance of the continent's largest economies, high inflation, and a sharp deceleration of investment growth – and is insufficient to reduce extreme poverty. 
East Asia and the Pacific (EAP)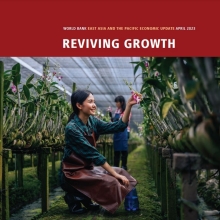 Download Report (April 2023)
Press Release: English | Tiếng Việt | 中文 | Bahasa Indonesia | ไทย | Монгол
Overview: English
Most developing East Asia and Pacific (EAP) economies have bounced back from recent shocks and are growing. However, slowing global growth, elevated commodity prices and tightening financial conditions will affect economies in the region in 2023. In addition, EAP economies face the major challenges of de-globalization, aging, and climate change. More than two decades after the Asian Financial Crisis, the April 2023 issue of the report takes a long-term view of growth trends and needed policy actions.
Europe and Central Asia (ECA)
Download Report (April 2023) 
Press Release: English|Español| Русский | Български
| Српски | Հայերեն | Українська | Македонски | Türkçe | Shqip
Economic growth slowed sharply last year in Europe and Central Asia, as Russia's invasion of Ukraine, a surge in inflation, and the sharp tightening of monetary policy and financial conditions hit private consumption, investment, and trade. The marked increase in food and energy prices boosted inflation to a pace not seen in 20 years. This update summarizes recent developments and presents the economic outlook for the Europe and Central Asia region. It also focuses on the uneven burden of inflation, as the poorest households faced a higher inflation than the richest households.
Executive Summaries: English
Latin America and the Caribbean (LAC)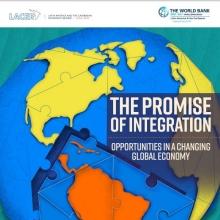 Download Report (April 2023) 
Press Release:  English | Español | Português
The Latin America and the Caribbean (LAC) region has proved to be relatively resilient in the face of increased debt stress, stubborn inflation, and uncertainty arising from the Russian invasion of Ukraine. Income and employment have largely recovered from the pandemic, poverty has receded, and markets remain guardedly optimistic about the near future. However, global uncertainty is rising, including a recent wave of bank failures in the US and Europe. Strengthening resilience, both on the health and macroeconomic fronts, will be paramount. Progress remains pending in both vaccination coverage and health system preparedness, while the institutionality of macroeconomic policy in some countries is being questioned. 
South Asia Region (SAR)
Download Report (April 2023) 
Press Release: English |
South Asia's outlook is shaped by both good and bad news in the global economy. Lower commodity prices, a strong recovery in the services sector, and reduced disruptions in value chains are aiding South Asia's recovery but rising interest rates and uncertainty in financial markets are putting downward pressure on the region's economies. Countries in South Asia, especially those with large external debt, face difficult tradeoffs as they respond to these pressures. Growth prospects have weakened, with large downside risks in most countries given limited fiscal space and depleting foreign reserves. Going forward, broad reform programs, including a sustainable fiscal outlook, are needed to put South Asia on a more robust and inclusive growth path. Inequality of opportunity, which is higher in South Asia than in other regions of the world, is both unfair and inefficient. Reducing inequality of opportunity and increasing economic mobility will help broaden countries' tax base and boost support from the population for the critical reforms.
The Middle East and North Africa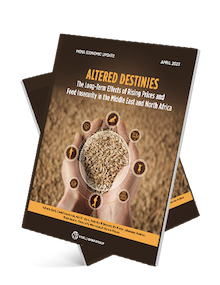 Download Report (April 2023)
Press Release: English | Français | العربية
High inflation and rising food prices pose a challenge to economies across the Middle East and North Africa (MENA), where growth is expected to slow in the coming year to 3% after growing 5.8% in 2022. Oil exporters, who benefited from a windfall in 2022, will decelerate the most, but a large gap remains between high-income countries and the rest of the region. Titled "Altered Destinies: The Long-Term Effects of Rising Prices and Food Insecurity in the Middle East and North Africa," this twice-yearly edition focuses specifically on the impact of food price inflation on food insecurity. Double-digit food inflation is weighing heavily on developing economies in the region, with the poor hit hardest for food price hikes.