---
Healthy citizens are the cornerstone of every country's development and are integral for sustainable economic growth. Given the many health hazards of pollution—from cancer to respiratory ailments and much more—it is increasingly becoming recognized as an impediment to growth and development. Recent global efforts to minimize pollution, through initiatives such as the Sustainable Development Goals (SDGs) and The Paris Agreement, aim to set global guidelines for countries in order to reduce pollution.
Ensuring low levels of pollution is important for learning, building skills, and becoming productive individuals who can actively contribute to the growth of their county's economies and also rebuilding of their economies in light of the COVID-19 pandemic repercussions.
To effectively map out achieving the SDGs, Egypt launched its 2030 sustainable development strategy. Preserving the environment and creating a sustainable ecosystem are among the strategy's main objectives. It includes commitments to reduce by 50 percent emissions of particulate matters – liquid droplets and solid particles emitted into the air that contribute to higher levels of air pollution. Recent studies highlighting the adverse impact of pollution on growth estimate that the annual economic cost of air pollution on health in the Greater Cairo area alone is about 1.4 percent of Egypt's Gross Domestic Product.
"The World Bank has been supporting Egypt's development efforts, which aim to ensure that the country's environment is conducive to the wellbeing of citizens," said Marina Wes, World Bank Country Director for Egypt, Yemen and Djibouti. "Today more than ever, there is an opportunity to strengthen job creation and economic growth in a green, sustainable, efficient, resilient, and inclusive manner, building on the Government of Egypt's efforts."
---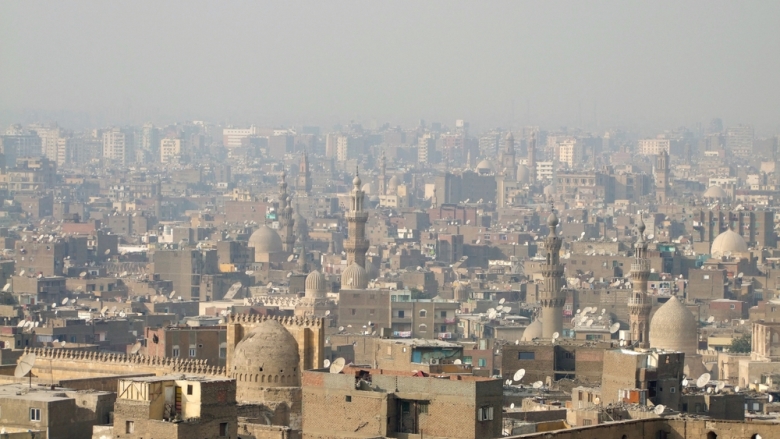 ---
The World Bank is supporting Egypt's efforts to improve the quality of its environment through the following operations:
Launched in 2020, this US$ 200 million operation aims to improve the air quality in greater Cairo as well as empower people to better cope with the existing high pollution levels. The operation aims to achieve its goals through: i) modernizing Egypt's Air Quality Management System; ii) supporting solid waste management in Greater Cairo (as much of the air pollution stems from the burning of solid waste), including plans for the construction of an integrated waste management facility at the 10th of Ramadan City, the closure and rehabilitation of the Abou-Zaabal dumpsite, and strengthening the regulatory framework for waste management; iii) contribute to vehicle emissions' reduction by supporting the piloting of electric buses in the public sector and related infrastructure, including charging stations, and assessing the technical and financial feasibility of scaling this up and, iv) implementing activities aimed at behavioral change by communities and service providers and ensuring citizen engagement in project design and implementation.
Launched in 2015 this project aims to provide increased support on air pollution management in order to respond to the magnitude of the threat to human health and economic growth. PMEH provided the evidence-basis on air pollution to support the Greater project in Greater Cairo. PMEH's support helped to better understand the sources of air pollution and the health effects from it. As part of the source identification work, monitoring and laboratory equipment is being procured, and training sessions to the ministry of Environment on sampling, monitoring, and statistical analysis are being held. As part of the health impact assessment, an epidemiological study was carried out linking hospitalization data from public chest hospitals to air pollution concentrations, to understand the environmental health relationships. Lastly, PMEH support also helped in understanding the economic costs from air pollution, and a Cost of Environmental Degradation report was published summarizing the findings in 2019. Aside from Egypt, PMEH also currently operates in China, India, Nigeria, South Africa, and Vietnam.
Launched in 2014, this US$ 8.10 million operation aims to safely dispose of a total of about 1,000 tons of highly hazardous Obsolete Pesticides (OPs) from all over Egypt, as well as 1,000 tons of Polychlorinated Biphenyls (PCBs) from electric transformers of the Ministry of Electricity. These pesticides have been taken out of circulation, either because they have no permits from the Ministry of Agriculture, or their validity has expired, or because they have entered the country illegally and have been confiscated for being part of smuggled cargo. To date, 786 tons of highly hazardous obsolete pesticides have been removed from Al-Saff area near the governorate of Giza , Al-Adebeya Port near the governorate of Suez and several other locations in the country and reduced health risk to about 382,926 people around these locations.
"Finally, my friends and I enjoy playing outdoors,'' said 13-year-old Karam Sayed, a resident of El-Saff, Giza governorate. ''When the pesticides were there, I was always sick and felt like I was suffocating.''
''For years, we were suffering from inflamed sinuses and unable to breathe," said Monir Abdo, another resident of El-Saff. "I had to have an operation done.The bad smell was continuous, day and night. It got worse during summer.''
''Now the pesticides are removed," he continued. "Our health is better. Finally, my children are able to study without being distracted by nasty smells and breathing difficulties.''
In addition to financing and supervising the disposal and elimination of highly hazardous obsolete pesticides, the operation is building the capacity of the ministries of environment, agriculture and electricity so that the ministries can conduct similar exercises in the future when needed, even after the operation concludes.
Improving environment quality is key for Egyptians to benefit from the ongoing economic and human capital development efforts and help the country fulfill its development potential. Through its various pollution reduction efforts, the World Bank is committed to offering the support needed to provide Egyptians with a clean environment in which they can lead productive and prosperous lives.
---