STORY HIGHLIGHTS
Nearly every business in the world has been affected by COVID-19—in different ways. While one-fourth of companies saw sales falling 50 percent in October-January from pre-pandemic levels, a third said their sales increased or stayed the same.
To capture the impact of the pandemic on firms' performance, the World Bank launched ongoing surveys with more than 120,000 firms in over 60 countries. The assessment is expected to help inform recovery efforts.
Developing countries have introduced multiple support programs, but businesses most affected by the shock—small firms and those in poorer countries—were the least likely to receive government support.
Crises are nothing new to small enterprises in developing countries. Inflation, credit crunches, and currency volatility often put to test the ability of millions of business owners to navigate turbulent waters. The situation was no different to P&P Marroquinería, a producer of leather goods founded 30 years ago in Bogota, Colombia.
But in early 2020, as news about the coronavirus started to trickle in, P&P Marroquinería owner Pastora Fajardo could not imagine the challenges and extreme uncertainty that her company would face. Multiple clients cancelled orders, and its factory had to shutter temporarily to avoid the spread of the virus.
---
"Every month felt like an eternity," says Fajardo, in reference to the multiple disruptions presented by COVID-19, which forced the company to halve its workforce of 60 people.
Almost a year into the pandemic, nearly every business in the world has been affected by COVID-19, often through multiple shocks at the same time. On average, companies' sales dropped 27 percent in October 2020-January 2021 from pre-pandemic levels, after plunging 45 percent in April to September, according to a recent World Bank analysis based on ongoing surveys with more than 120,000 firms in more than 60 countries. But performance has varied widely, even within countries and industries.
The assessment is the first of its magnitude taking place in real time as a crisis evolves. The surveys aim to capture the impact of the pandemic on firm performance. They contribute to understanding businesses' adjustment strategies and guiding policy responses by governments and multilateral institutions. The effort—available in a dashboard—is rooted in the belief that data-driven policymaking will be key to guide the recovery.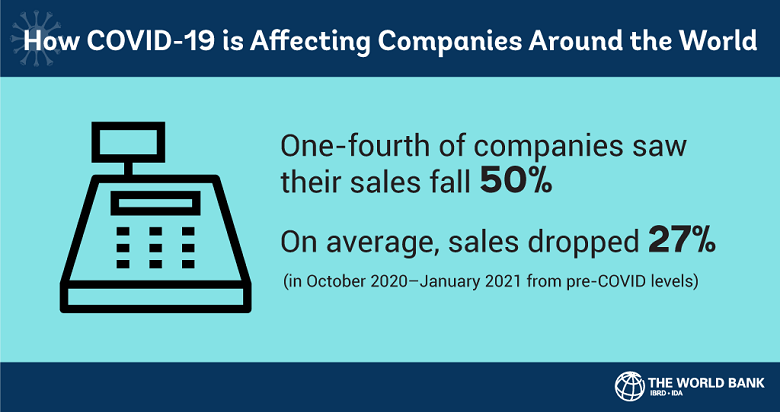 INFOGRAPH |
How COVID-19 is Affecting Companies Around the World
The data show that, in fact, a substantial number of firms saw their sales stay the same or increase during the pandemic—about 20 percent during the first few months and as much as 34 percent in the months that followed. On the other hand, 25 percent of the most-affected businesses reported a drop in sales of 72 percent in the early months of the pandemic and of 50 percent in the following months.
Several factors explain these differences. Firms in countries more deeply affected by COVID-19 have fared worse, as well as those in sectors severely struck by the pandemic, such as hospitality.The analysis also shows that smaller firms are being hit much harder. Yet, even for firms of the same size, and in the same sector and country, differences are huge: for example, in Senegal, six retail firms with 10 employees reported, in the same week, a drop in sales ranging from 10 percent to 100 percent.
---
A negative—and uneven—shock
In some firms, management has been more resourceful in finding new sources of revenues, or reinventing their businesses—for example, moving their sales online or switching to different products. Or, in the case of exporters, some have switched from one set of customers to another.
Fajardo, from P&P Marroquinería, says changes to products and the adoption of an online selling platform helped limit the decline in sales to 35 percent in 2020 from the previous year. A month after the first coronavirus cases were reported in Colombia, P&P had already shipped 10,000 face masks to a client in Canada. Shopping bags, accessories for home offices, and smaller backpacks were added to its product line. Leather items are now being offered on a website.
"We're always attentive to what's going on, and our experience has helped us adapt quickly," says Fajardo.
According the World Bank analysis, the need for businesses to keep up with ever-changing conditions will only grow as governments taper off relief and overall access to finance becomes more limited.
---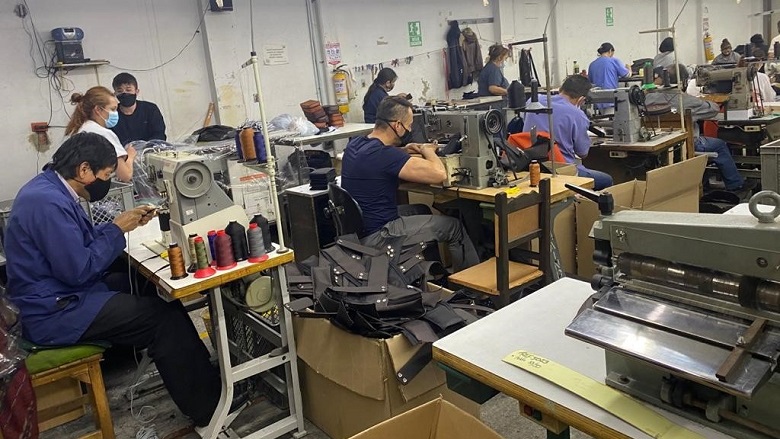 ---
In Costa Rica, the pandemic has tested the capacity of Paradise Ingredients, a leading banana puree processor, to innovate.
In 2019, to diversify away from commodities, the company invested in beverage products targeting the cruise-ship market. With COVID-19 ravaging this industry, the company had to pivot quickly, despite uncertainty and retraction of overall demand.
"We started working with distributors to reach other points of sale," said Commercial Director Hugo Chaves. The strategy has paid off. The company has entered new countries for its banana puree, including Israel and New Zealand, and has expanded presence in high-paying ones, such as Japan. It has also started selling beverage products directly to consumers over the internet.
---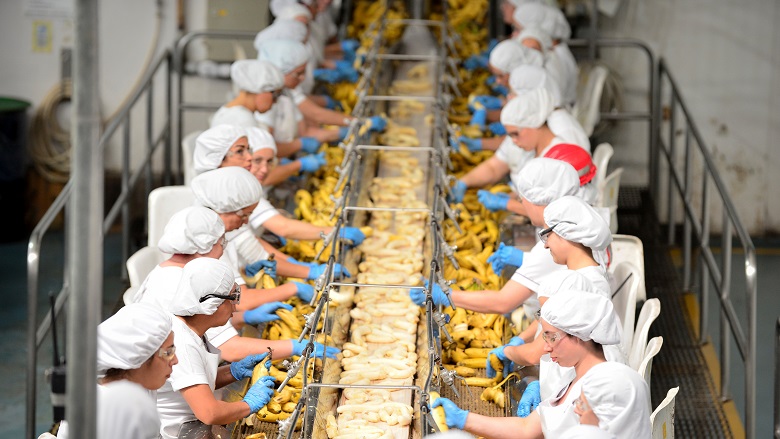 ---
Paradise Ingredients used the opportunity to review commercial practices, with the objective to reduce costs and improve efficiency. New procedures helped limit the decline in sales to 20 percent in 2020, says Financial Director Humberto Suarez. Despite the suspension of about 10 percent of its seasonal workers, the firm managed to keep all of its 360 permanent employees, half of them women.
Holding onto workers was not unique to Paradise Ingredients. Despite the impact of COVID-19, only 15 percent of firms had laid off workers in April-September 2020, with the share declining to 11 percent in October 2020-January 2021. Two thirds of businesses adjusted their payroll by reducing hours, wages, or granting paid or unpaid leave to workers—largely due to high levels of uncertainty about the duration and depth of the shock.
Just like with P&P Marroquinería and Paradise Ingredients, many companies found in e-commerce a way to pull through during times of social distancing and lockdowns. But the adoption of online platforms hasn't been widespread. Globally, about one third of firms have increased the use of internet, social media and other digital platforms in response to the pandemic—and less than 20 percent of businesses have invested in new equipment, software or digital solutions.
The adoption of technology was much lower among smaller firms, which typically face tougher constraints in terms of lack of demand, higher uncertainty and weaker managerial capacities. In addition, these companies often have less access to finance and more difficulty accessing high-speed internet.
---
"We're always attentive to what's going on, and our experience has helped us adapt quickly."
---
---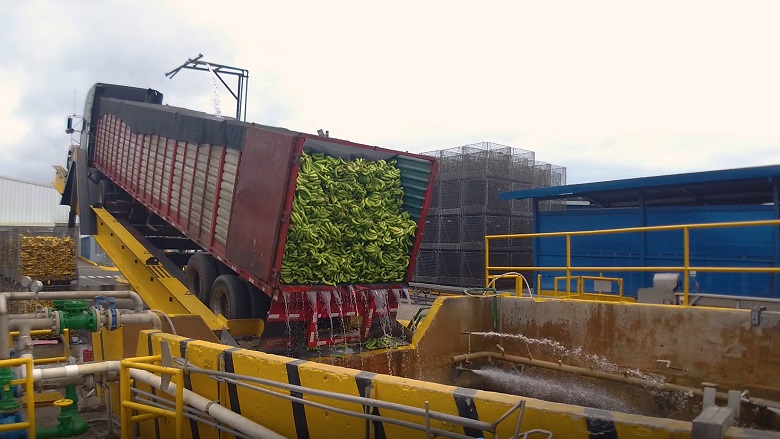 ---
---